The COVID-19 pandemic saw a huge rise in home workouts as people swapped the gym floor for their front room floor to stay active while the gyms were closed. While some people couldn't wait to get back to the gym when they re-opened, a lot of people were converted to home workouts and haven't stepped foot inside a gym since.
Gym v Home Workouts
Are you considering a new workout routine? Perhaps you've been working out from home for a while but looking to push yourself with heavier weights at the gym? Or maybe you're tight with timing and want to see if home workouts will be more efficient.
There are plenty of pros and cons to both home workouts and gym workouts. Whichever you decide will depend on time, environment, and personal goals. So, we've constructed a list of pros and cons to help you decide.
Home Workout Pros:
Convenience – No travel time required! You don't have to pack a bag and can work out whenever you like – which is perfect for those who want to work out outside of the gyms opening hours.
Privacy – If you're new to working out then you may feel a little self-conscious when it comes to exercising in front of people. Working out at home can relieve you of any gym anxiety and motivate you to try new exercises.
Variety – Thanks to modern technology there are plenty of virtual classes and workout programs to get you moving at home! Not only that but choose from working out indoors or out. Set up a circuit in the garden or put a virtual class on in the lounge and follow along.
Home Workout Cons:
Lack of equipment – Investing in home equipment might not be cheap, then there's the challenge of where to store it. And unless you have the space and budget for a fully functional home gym, chances are a commercial gym will have a lot more equipment to offer.
Overall productiveness – If you struggle with motivation then home workouts might not be the best option for you. According to study conducted by Les Mills, in-gym workouts were found to be far more productive than at home, with the average heart rate being 14% higher during a gym class. This is even the case when completing the same class format and release.
Temperature – Most gyms tend to have air-conditioning. Most UK homes do not. This can cause a lot of uncomfortable sweating (especially given the recent heatwave) when working out at home. So, to avoid passing out from heat exhaustion, joining a gym might be the way to go.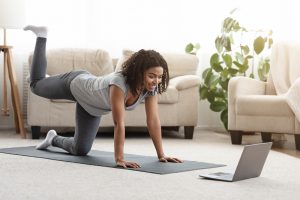 Gym Pros:
Sense of community – For many people, the social aspect of the gym is a big motivator. And arranging a date and time to meet up with your gym buddy might just be the extra push you need.
Amenities – Exercise can be far easier when you have lots of options to choose from. Whether it's doing a class, hitting the weight section, or going for a swim; gyms have a huge range of choice. Not to mention on-hand professional advice. Booking in a gym induction or signing up for personal training will certainly help increase your gym confidence.
Focus – There's not much to do at the gym except exercise, which can help you stay focused on your workout. The gym can be the perfect place to free you from distraction with no kids, chores, or work to interrupt you.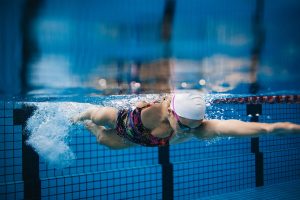 Gym Cons:
Busy – You can almost guarantee you won't be alone in the gym. Especially if you're visiting during peak times. In fact, sometimes the gym can be so busy, you end up having to queue for equipment. Not to mention people leaving sweat all over the machines and weights left lying on the floor.
Time – 24-hour gyms might be a recent revelation however, that doesn't mean everyone's local gym is open all the time. Awkward opening hours might make it tricky for those with a busy calendar, not to mention the time it takes to get there.
Germs – Unfortunately, you can't rely on everyone in the gym to practice safe hygiene procedures. Chances are there are quite a few people not cleaning their equipment before and after, meaning you may need to spend extra time wiping down equipment before you use it. However, since COVID-19, most gyms have new hygiene and safety measures in place to enforce the cleaning of equipment after use.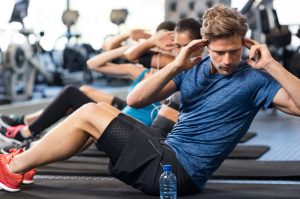 It's hard to say whether gym workouts or home workouts are best because choosing where to work out all comes down to personal preference and convenience. But, whether it's in the gym or at home, as long as you're meeting the government recommended guidelines of 150 minutes of moderate intensity exercise per week, then any exercise is good exercise!